Bicycle insurance
14-day cooling-off period
Buying a bicycle, such as a racing bike, requires a great financial sacrifice from you. This applies not only to e-bikes (electric bicycles), but also to regular bikes. The greatest danger is the risk of theft, but with bicycle insurance you place the risk with an insurer. You can use the best locks, but they will not completely prevent theft. You can take out an expensive bicycle insurance at the bicycle dealer when you buy the bicycle, but it is advisable to compare and take out insurance online.
Bicycle insurance: Compare and contract online
The bicycle insurance can be used in case of theft of your bicycle, but also in case of damage due to a collision, for example. This insurance is often taken out for new bicycles until they are a few years old. Not all insurance companies offer bicycle insurance. We advise you not to take out bicycle insurance with the seller of the bicycle. It is better to compare online and take out a bicycle insurance with the best conditions and the lowest premium. If you take out bicycle insurance online now, the bicycle is already insured.
Benefits of bicycle insurance
A bicycle insurance is not legally obligatory, but it is certainly advisable. You pay hundreds or even thousands of euros for the bicycle. Theft can cause you to lose the investment all at once. With bicycle insurance, you will not suffer any financial loss as a result of the theft. The insurance often includes a generous compensation. During the first three years, for example, you will receive 100% of the insured amount in the event of theft and not the current value of the bicycle. With most bicycle insurances you do not have to pay an excess. So you get the full amount of the claim back. For a relatively low premium, you can insure your bicycle against theft and accidental damage.
Choose the right coverage for your bike
When you take out bicycle insurance, for example for an electric carrier bicycle, you have various coverages to choose from. You can insure your bicycle against theft, damage or a combination of theft and damage. The difference between these types of insurance is already apparent from the name. Damage includes damage to the bicycle due to a fall, collision or vandalism.
Supplementary coverages
In addition to bicycle insurance, you can also choose a number of additional coverages. These coverages are related to the bicycle insurance and can relieve you even further.
In addition, you can take out recourse legal assistance, accident coverage and roadside assistance insurance.
The accident insurance has the following insured amounts:
In case of death due to a bicycle accident, your next of kin will receive €5,000. In case of permanent disability due to a bicycle accident, you will receive €10,000.
With roadside assistance insurance, you get 24/7 ANWB roadside assistance with your bicycle within the Netherlands. Can your bicycle not be repaired en route? Then you and your bicycle will be taken to a bicycle specialist or home.
Why insure your bike through Alpina?
Insuring your bike right from the bike store seems cheap, but when comparing it often proves otherwise. Critically comparing different insurers can lead to cheaper bicycle insurance, but also to bicycle insurance with broader coverage and better conditions. Comparing through Alpina.nl offers additional benefits. In case of damage you can benefit from the recovery service of 112schade.nl. You do not have to contact the insurer of the person who caused your damage. And we offer a money back guarantee.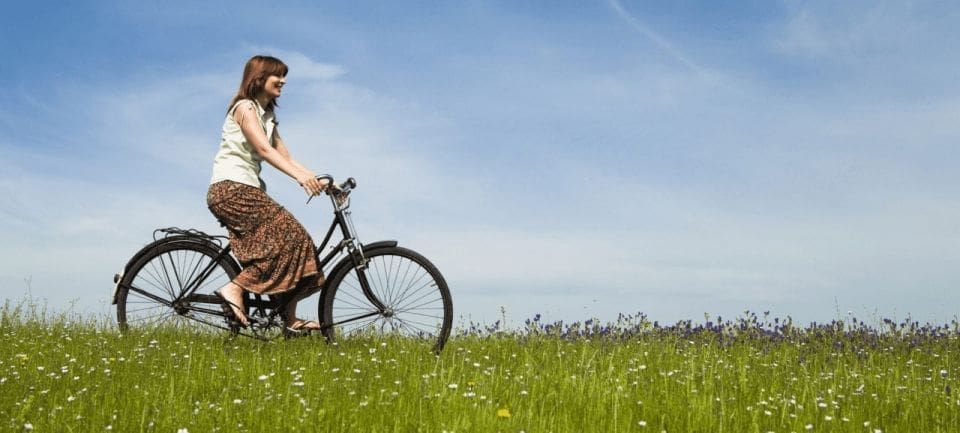 What is the best bicycle insurance?
| Insured against | When do you get a benefit from the bicycle insurance? |
| --- | --- |
| Theft | After theft you will receive a benefit |
| Theft + damage | You also receive a benefit if the bicycle is damaged in an accident |
| Theft + damage plus | In addition to coverage against theft and damage, the bicycle insurance also offers recourse and accident coverage. |
What does bicycle insurance cost?
The premium for a bicycle insurance depends on the following:
Value of your bike
Type of bicycle
Town/City
Selected coverage
By making a comparison online, you can calculate the cost of bicycle insurance and take out insurance directly.
After the theft, you will receive 100% of the insured amount of the bicycle until the bicycle is three years old. After three years, there will be a depreciation. There is also a favourable arrangement for a second-hand bicycle. In case of theft, the insurer assumes the purchase value. With the payment, you can buy a fully-fledged replacement bicycle.
Required by the insurer
Of course, you must do everything to prevent damage to the bicycle and theft. For example, you should contact the insurer as soon as possible after the theft. You must also follow the insurer's instructions. Basically, you have to limit the damage as much as possible. There are also requirements for the locks on the bicycle. The minimum requirements are stated in the policy. In any case, it must be an ART-approved lock with at least two stars. You must be able to hand over both keys in the event of theft. If you lose one of the keys, you must report it to the insurer.
Pay close attention to the insurer's requirements. Failure to meet the requirements may result in you not receiving a payment in the event of damage or theft.
Are your bicycle accessories included in the insurance?
You can tailor your bike even more to your preferences with accessories. For example, you can have a bicycle computer installed. The additions are not insured as standard. You can add up the value of the accessories and insure them separately as accessories. Do not forget this, otherwise you will not be reimbursed for the accessories in the event of theft or damage. You can consider parts of the bike as accessories if the bike did not come out of the factory with these additions as standard. In other words, when determining the new value, the accessories are not included.
Our tips
With bike insurance, your bike is insured, but above all, pay attention to your own safety. Do not use a smartphone on your bike. This often causes accidents.
- Of course, you can also insure your e-bike (electric bicycle) on bicycle insurance!
- Do you want the best bicycle insurance at the lowest premium? Choose to compare and buy online.
- There is no insurance requirement for bicycle insurance, but not being insured can cost you dearly in case of theft.
Reporting damage or theft
Report the damage as soon as possible to the insurer. Especially in case of theft, it is important to report the damage as soon as possible, as this increases the chance that the bike will be found. But the first step in case of theft is to report it. Do this especially as a first step if the perpetrator can still be traced. The insurer will give you instructions on how the damage should be further settled. In case of a collision, a damage report form can be requested. In case of theft the insurer will request the keys to the bicycle. They do this to demonstrate that the bicycle was locked at the time of the theft.
Insurance cards
An insurance card is an information document on the insurance product. An insurance card provides a summary of the insurance. The policy conditions state in detail what you are and are not insured for. Below, you will find the insurance cards of a continuous bicycle insurance with Unigarant.
Insurance card Continuous cycle insurance at Unigarant Verzekeringen
Customers about Alpina
Made possible by klantenvertellen.nl
See all reviews
8.1
Average score
Based on
3143
reviews
Recovery service
Alpina cooperates with 112schade.nl to recover non-covered damage from the other party. Has someone caused damage to you, but you have no coverage on your own policy? 112schade.nl can help you recover your damage from the other party.

We can be reached via Chat, Whatsapp, phone or email
Feel free to contact us if you want to know more.
We are here today until 18:00