Do you own your own vacation home? If so, you must properly insure it, just like a residential home, a vacation home. The type of insurance is basically the same. With property insurance, all the real estate in your vacation home is insured in case of, for example, fire, burglary, vandalism and bad weather. A nice idea, because obviously you are not there all year round to keep an eye on things. A vacation home is often unoccupied for long periods of time because it is only used for short periods of time or during a certain season. This is something insurers take into account when buying insurance.
Vacation home insurance at Eerdmans
Alpina brings its vacation home insurance policies to Eerdmans, also part of the Alpina group. Eerdmans has been the specialist in boat insurance and vacation home insurance for more than 50 years.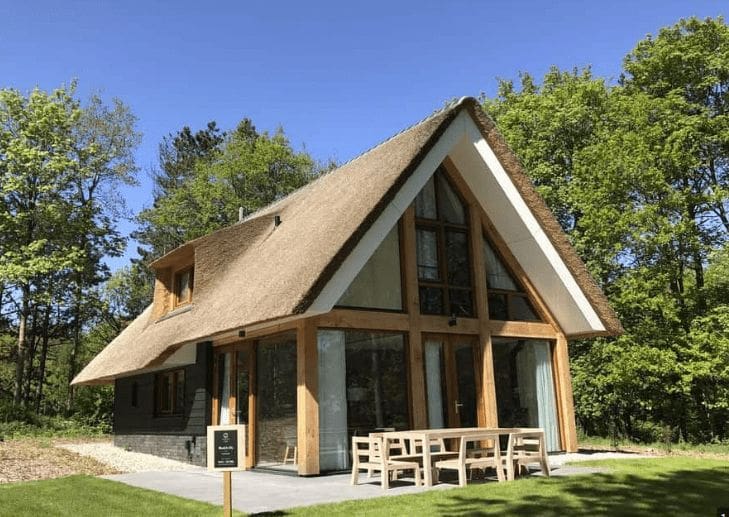 Basic Insurance
Fire
Lightning strike
Inbraaj
Theft
Storm damage
Glass coverage
Liability
Contents
Rental
Addition/annexation
All-Risk
Fire
Lightning strike
Inbraaj
Theft
Storm damage
Glass coverage
Liability
Contents
Rental
Addition/annexation
Why insure a holiday home?
For many people, a holiday home is a second home. Of course, not as much time is spent there as in a home, but it is really a place to enjoy and rest. A special place, therefore, with many fond memories attached to it. It is therefore just as important to take out the right insurance for a holiday home as for a regular house. If your holiday home is damaged, for example by fire or storm, you may be faced with high financial costs. Think of the clean up of the remains of the house, the rebuilding and the replacement of all the belongings. These costs can quickly run into the (tens of) thousands of euros. By insuring your holiday home properly, you can be sure that you will not be faced with unpleasant financial surprises in the event of damage or theft.
What do I need to consider when insuring a holiday home?
You can take out buildings insurance for both a house and a holiday home, but there are a number of differences. An insurer will set a number of conditions to insure a holiday home. These conditions concern, for example, the occupation of the home and possible rental. During periods of prolonged vacancy, limited cover often applies. This means that you are not insured in case of burglary or damage during that period. Always check this carefully in the conditions of the insurer.
Different conditions also apply to renting out a holiday home. Among other things, the number of days per year that you rent out the house is important. Most insurers allow you to rent out your holiday home for a maximum of 6 months a year. This may differ per insurer, so always check the policy conditions. With some insurers, renting out your holiday home is part of the basic coverage and with others you can take out a separate coverage. If you rent out your holiday home for more than 300 days per year, you should take out business property insurance.
How do I insure a holiday home?
You insure your holiday home with home insurance and possibly contents insurance. With a building insurance, all immovable goods are covered in the event of damage or theft. Think for example of a built-in kitchen or bathroom. With a contents insurance, all movable, moveable items are also insured. If a fire breaks out in your home, your possessions can also be seriously damaged. Therefore it may be wise to take out both a building and a contents insurance. This combination of insurances is also called home insurance. You can also extend the home insurance with liability insurance, legal assistance insurance and continuous travel insurance. When you take out these insurances together, we call this a home insurance package. This means that you do not have to take out all the insurance separately. With a home insurance you know for sure that your holiday home is fully insured.
What is covered?
You can choose two different types of cover when insuring your holiday home. What is covered depends on the cover you choose. With the standard coverage your holiday home is insured against fire, burglary, vandalism and damage caused by weather conditions such as storm, hail and lightning. If you choose all-risk coverage, you are also insured for sudden, unforeseen events. This includes for example damage to your holiday home caused by falling, bumping or collision.
What does it cost to insure a holiday home?
The cost of insuring a holiday home depends on a number of factors:
The type of holiday home
The construction type of the dwelling
The reinstatement value
The desired coverage
The own risk
The residence/region
When calculating the costs, insurers look at these factors to determine the premium. A holiday home is of course a different type of home than a normal house. Often the owner of the holiday home does not live there permanently. In some cases, the house is largely rented out and thus different people live in it throughout the year. In addition, a holiday home is more often vacant than a normal house and is often not located in a residential area, so that there is less supervision. All these factors together make insuring a holiday home a bigger risk for an insurer than insuring a house. That is why you cannot insure your holiday home with every insurer. Fortunately, there are still plenty of insurers with whom you can insure your holiday home.
How can I insure a holiday home abroad?
Of course, the weather is not always good in the Netherlands. That is why there are plenty of people who buy a holiday home abroad, preferably in a country where it is sunny and dry more often. Keep in mind that insuring a holiday home abroad is often more difficult than when the home is in the Netherlands. Many insurers limit themselves to insuring holiday homes in the Netherlands, Belgium and Germany. If you have a holiday home in another country, you can only approach a limited number of insurers. These are usually insurers who specialise in insuring holiday homes. Sometimes, however, you can take out insurance with an insurer in the country in question.
Directly insure your vacation rental through Alpina!
Insure your vacation home? At Alpina.nl you can easily calculate the premium for your home contents insurance. You can do this with our online comparison tool. You first enter a number of details about your home. Hereby you indicate directly what type of home it concerns. For example, the tool distinguishes between a residential home and a recreational home. Then you can choose the desired coverage for your insurance. Then you will get an overview of all insurers, including the corresponding premiums and conditions. This way you can easily choose the right insurance.
Do you have any questions about insuring your holiday home? Then please do not hesitate to contact us! We are available Monday to Friday from 08.00 to 18.00 on 088 - 688 3700. You can also send us a message via chat, WhatsApp or Messenger. In that case we will answer your question as soon as possible during office hours.
Customers about Alpina
Made possible by klantenvertellen.nl
See all reviews
8.1
Average score
Based on
3143
reviews
We can be reached via Chat, Whatsapp, phone or email
Please feel free to contact us if you would like to know more.
We are available from Monday to Friday from 08:00 to 18:00.