How do I insure my e-bike or elobike?
The role of the bicycle is still growing in the Netherlands. Improved technologies make cycling more attractive. A bicycle with electrical pedal assistance (e-bike or elobike) can handle trips for which people used to take the car.
What is an elobike?
An elobike, also known as an e-bike, is a bicycle that offers pedalling support by means of an electric assistance motor. With an elobike, you cover twice as much distance with the same effort. This comfortable way of cycling has therefore experienced tremendous growth in recent years and has now been discovered by all age groups: not only the elderly who find it more difficult to cycle against the wind, but also the businessman who wants to reach his office quickly.
The government has set special requirements, conditions and rules for electric bikes. The driver of an Elobike must be at least 16 years of age and is not required to have a driving licence. Also, the maximum speed of the Elobike is 25 km/h and it must be equipped with lights. If these requirements are met, the driver may use the vehicle on public roads.
Liability insurance
Given that an e-bike uses electricity to assist pedalling and is thus mechanically driven, the bicycle is a motorised vehicle according to law. Although the law states that the electric bike is a motor vehicle, you are not obliged to insure it. The insurance obligation for e-bikes has been abolished as of October 1, 2006. Therefore, this bicycle does not have to be provided with a registration number. However, the rider of the e-bike can be held liable for damage he has caused with the vehicle. For this reason, it is advisable to take out liability insurance for the bicycle. With the liability policy for private individuals (AVP) your liability is covered for damage caused with or by an electric bicycle.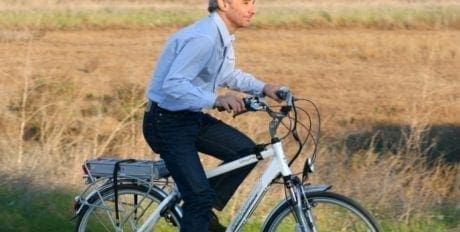 Motor Insurance Liability Act
There can be a lot of confusion about insuring an electric bicycle. The Dutch Motor Insurance Liability Act (WAM) states that insurance is compulsory for every motorised vehicle. The WAM ensures that your traffic liability is insured. An electric bike is indeed a motor vehicle, but according to the WAM there is no obligation to insure. This decision was made because an e-bike is not much heavier and cannot go much faster than a normal bicycle.
Bicycle insurance
In principle, your liability is not covered for damage caused with or by a motor vehicle in your possession. An exception to the rule, however, is a bicycle with electric pedal assistance, otherwise this would mean that the electric bicycle is not insured at all. In addition to the liability coverage, it is wise to take out a bicycle insurance for your E-bike. With a bicycle insurance you can insure yourself against damage and theft of the electric bicycle.
Calculate the premium of your bicycle insurance directly!
Last updated: 15-06-2021
Financially certainly.
We can be reached via Chat, Whatsapp, phone or email
Please feel free to contact us if you would like to know more.
We are available from Monday to Friday from 08:00 to 18:00.