Is burglary covered under the building insurance
You take out buildings insurance to protect your home against imminent danger. Your house can be seriously damaged by fire, storm or burglary, for example. This is of course annoying enough, so should this happen, you want to be well insured for it.
Is additional burglary insurance necessary?
The starting point for a building insurance is the reinstatement value of your home. The reinstatement value is the maximum amount that the insurer will pay out. A fire can completely destroy your home. In case of a burglary, the damage to your home will probably be limited.
It is possible to take out additional burglary insurance. This insurance falls under the building insurance. Burglary insurance reimburses not only your belongings, but also the damage to your home caused by the burglary.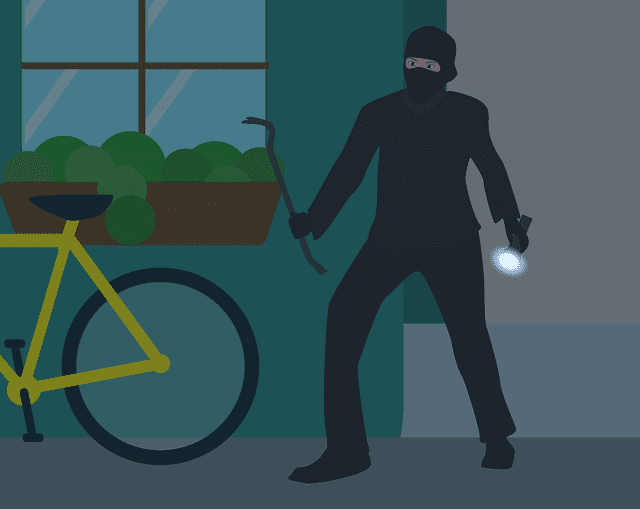 When is burglary damage not covered?
The coverage of a burglary insurance only applies if someone has entered your house illegally. This means that someone who does not belong there has entered by force. In addition, a burglary must always be reported to the police. This is relevant for the insurance.
If there are no signs of forced entry, in most cases you will not be reimbursed for the break-in damage. This means that if someone came in through a door that was open, there are no signs of forced entry. As a result, there is no proof of the burglary and most insurers will not pay out anything. There are also insurers who cover break-ins without forced entry. Please check the policy conditions of your insurer.
Preventing burglary
The best thing, of course, is to prevent a break-in. There are a number of anti-burglary tips that are good to follow. It is important never to mention on social media that you are on holiday. Only tell your family and neighbours that you are going on holiday. They can keep an eye on you and take care of the mail and plants if necessary. Using a timer, you can switch on lights at different times and in different places in the house when it is dark. It is also useful to give the house a lived-in look by putting some coffee cups on the table, for example.
It is also important to secure your home as much as possible by using approved locks. Always close all doors and windows. Do not forget the smaller windows of the toilet, for example. Do not place valuables in sight of passers-by and make sure you do not have large amounts of money in your home.
Rebuild value meter
A rebuild value meter can help you to easily calculate the rebuild value of your building. In other words, what will it cost to rebuild my house after it has been lost due to damage. To determine this the rebuilding value meter can be used.
Cheap building insurance!
Last updated: 08-10-2020
Financially certainly.
We can be reached via Chat, Whatsapp, phone or email
Please feel free to contact us if you would like to know more.
We are available from Monday to Friday from 08:00 to 18:00.