Take out moped insurance
14-day cooling-off period
Third-party liability (mandatory)
Free recovery service
Damage to others
Theft and fire damage
Damage to own moped
WA Theft and Fire
Free recovery service
Damage to others
Theft and fire damage
Damage to own moped
WA Theft, Fire and Collision
Free recovery service
Damage to others
Theft and fire damage
Damage to own moped
Taking out moped insurance does not take as much time as you might think. Within a few minutes you have applied for the insurance and you can hit the road with your moped. The insurance of a moped starts with filling in some data in our online tool. These include the registration number of your moped, the number of years without claims, the date of birth of the youngest driver and your postcode. Keep these details ready when you take out the insurance. After filling in your details, you can compare moped insurances. This way you can be sure that you will have the best and cheapest moped insurance.
Is it compulsory to take out moped insurance?
Moped insurance (same as scooter insurance) is, as said before, compulsory. Have you bought a moped and put it in your name? Make sure that you immediately take care of WA-coverage. This form of cover is compulsory. The RDW even has insight into the insurance details. Are you not insured on time? Then you can get a hefty fine for this. In addition, the consequences of driving without insurance are, of course, considerable when it comes to causing damage...
Take out your own moped insurance!
Often, the moped is still insured in the name of the previous owner when you buy a second-hand model. Never assume this! From the moment the registration number is in your name, you are obliged to take out insurance. Take out a new moped insurance as soon as possible. It may be cheaper to insure your child's moped, but it is not very convenient. The child will be a regular driver. It is best to accept the (slightly) higher premium, with which the child will build up damage free years from a young age.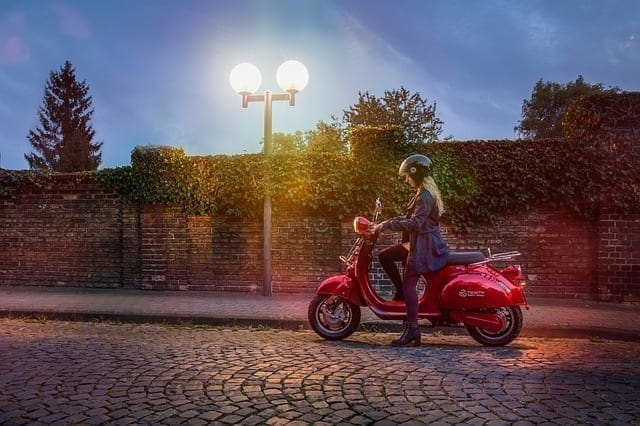 What should I pay attention to when taking out moped insurance?
The most important thing when taking out moped insurance is to look carefully at the insurance coverage. It is tempting to immediately choose a cheap third-party moped insurance. You can get this insurance for only a few euros per month. However, this is not necessarily the best insurance for your moped. In choosing the right coverage the current value of your moped plays an important role. A WA moped insurance is often chosen for older mopeds with a low daily value. A WA limited casco moped insurance is often taken out for mopeds from 4 to 8 years old. However, if your older moped still has a reasonable daily value, it may be wise to insure the vehicle WA limited casco. For a brand new moped with a high daily value an all risk moped insurance is recommended.
Of course, you can also rely on your own wishes. Perhaps you would like to be well insured against theft, because mopeds are often popular with thieves. In that case you can always take out a moped insurance with theft coverage. The premium is a bit higher than for a third-party insurance, but this often does not outweigh the cost of buying a new moped.
What factors go into buying moped insurance?
There are a number of factors that play a role when taking out moped insurance. These include:
Your age
Your postal code
The cover you choose
The number of claim-free years you have accumulated
Your age plays a role, as young drivers generally cause more damage than older, more experienced drivers. So if you are a young driver, you will pay more for your moped insurance in the beginning. That is why you have to provide the age of the youngest driver when you take out moped insurance. Your place of residence is also important for the insurer, because theft and vandalism occur more often in a big city than in the countryside. Finally, your claim-free years also play a role. The more claim-free years you have built up, the more discount you will receive on your premium. In many cases it is also possible to use the claim-free years from another vehicle for your moped insurance.
How to make the best choice for a moped insurance?
It is always good to compare insurances with each other. That way, it is possible to choose an advantageous premium. However, it should be noted that cheap is not always the best in this context. For example, one insurer may offer better conditions than another. There can also be a big difference in payment policy or service to the policyholder. Do you want to be sure to get your moped insurance from a recognized insurer?
Get your moped insurance cheap and easy at Alpina
Want to get moped insurance on the cheap? Then you've come to the right place at Alpina. Easily calculate your premium for m oped insurance so you know where you stand. Do you have any questions about the moped insurance? Then you can always contact us. At Alpina, we are moped insurance specialists so we can help you!
We can be reached via Chat, Whatsapp, phone or email
Please feel free to contact us if you would like to know more.
We are available from Monday to Friday from 08:00 to 18:00.