Large price differences oldtimer insurance
Insurance premiums for vintage cars vary enormously. This is evident from a study by comparison site Alpina.nl. Despite the relatively low premium for old-timer insurance, savings of up to €120 per year on the insurance premium are possible, says Marc Alpina, director of Alpina.nl.
Direct-writers often low premium for third-party cover
Alpina's vintage car survey shows that Meeus Insurance, with a premium of €60.24, offers the lowest premium for basic third-party liability (TPL) coverage. Places two to four are occupied by so-called direct-writers. These parties work without the intervention of an intermediary. The most expensive old-timer insurance is that of Bovemij Verzekeringen, with a premium of €181.
Looking at the premium for hull coverage, GIO adviesgroep is the cheapest with a rate of 1.36%.
Basic principles oldtimer research
In the investigation, Alpina assumed a 1985 vintage car with a driver over 25 years old, a maximum use of 5,000 kilometers per year and an appraised value of €5,000.
TVM best oldtimer insurance 2014
Alpina not only looked at premium factors in the vintage car survey, but also assessed the vintage car insurance policies on more than 25 components. Examples include the amount of the deductible and the ability to keep the classic car in case of total loss.
In conclusion, the best overall oldtimer insurance, in 2014, goes to TVM insurances. TVM insurances is also the best choice for hull coverage.
Polisdirect best choice WA oldtimer insurance 2014
Finally, Polisdirect, part of Bovemij, is the best choice in 2014 for old-timer insurance with third-party cover.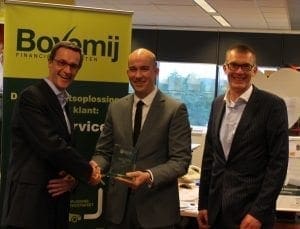 From left to right Rob Polman (Polisdirect/Bovemij), Robert van Spanje (Alpina.nl) and Henk Pieters (Polisdirect/Bovemij)
The complete oldtimer insurance survey can be found here: /oldtimerverzekering/onderzoek-2014/.
When is a car eligible for oldtimer insurance
Old-timer insurance is not necessarily insurance for old cars. It is insurance for vehicles from a certain age that are used as a hobby. A limited number of kilometres per year may be driven with the vehicle under the old-timer insurance.
Due to the limited use and the fact that, for example, no commuting is allowed, a lower premium is sufficient than on a 'normal' car insurance.
Classic car owners badly affected
The costs for oldtimer owners have risen considerably lately due to the new tax regulation that came into effect in 2014. It is therefore even more worthwhile to compare premiums in order to reduce the costs of old-timer insurance.
Alpina.nl
Alpina.nl is an independent comparison site with more than 44 years of experience in the insurance industry. Alpina.nl , with its 21 employees, is always looking for the best price/quality products for consumers and, in addition to a fast digital service, offers 24/7 telephone accessibility. The Thuiswinkel audience award in 2012 went to Alpina.nl in the categories Financial Service Provider and Comparison Site.
Last updated: 01-11-2022
Financially certainly.
We can be reached via Chat, Whatsapp, phone or email
Please feel free to contact us if you would like to know more.
We are available from Monday to Friday from 08:00 to 18:00.