Doing your banking your way
The neighborhood bank for 100 years
Everything under one roof
A personal advisor
A personal advisor. A familiar face. Someone who knows what's going on. We take our time and like to hear what's on your mind, so we can give appropriate advice at any time. Would you like an explanation of internet banking, would you like to switch your banking, or have you lost your debit card? You will always be helped by someone you know. Personal service when you want it; that makes banking a lot more pleasant.
"Handing over your banking business is not something you do lightly. That's why I find personal and especially human contact with our customers so important. This plays a big role in building a bond of trust and ensures that I can help you in the best possible way."
Geertje van Damme
24 years of experience as a banking advisor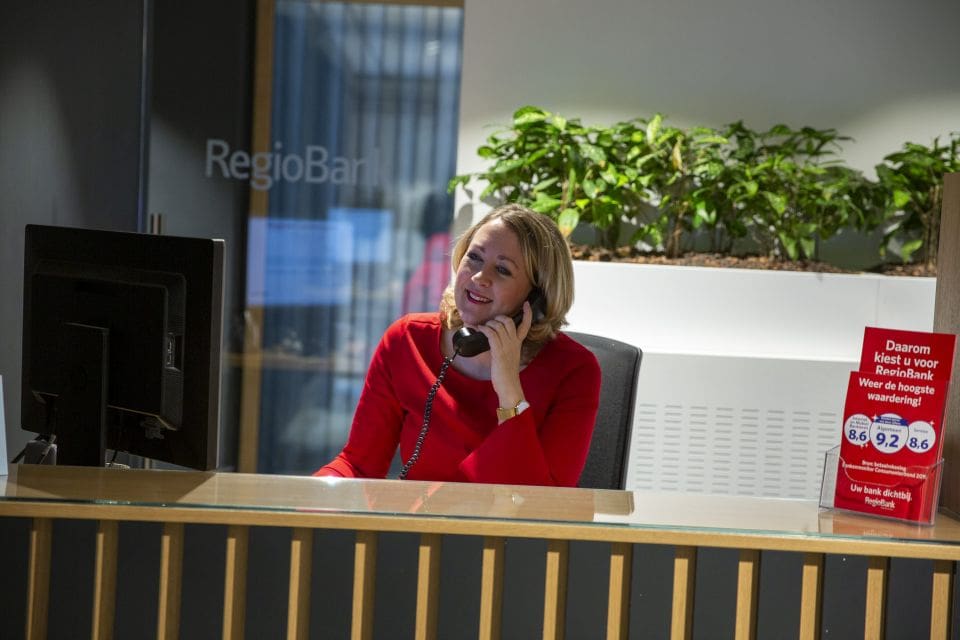 The best bank according to consumers
*Source: Consumers' Association using September 2022 as cut-off date

| | General | Internet and mobile banking | Costs | Service |
| --- | --- | --- | --- | --- |
| RegioBank | 9,5 | 8,8 | 6,5 | 8,9 |
| ASN Bank | 9,1 | 8,5 | 6,5 | 8,5 |
| Knab | 8,4 | 8,5 | 6,4 | 8,4 |
Doing your banking at the branch
You can always drop by our Independent Advisors at RegioBank. Whether your question is big or small and whatever your financial situation. Our strength is that we live and work nearby. We speak the same language and have the same needs as you. We are good at our job and deal with issues that are important to you every day. Translating your financial wishes into understandable solutions is what we like to do. Entrepreneur, retired, cohabiting, student or newborn: we are there for the whole family.
Getting your banking done online
It's nice to know that someone is always there for you. But often it is also nice if you can arrange the banking yourself. For this you can use RegioBank internet banking. This is a fast and secure way to do your banking. Do you have a tablet or smartphone? Then you can also download the RegioBank mobile banking app. Handy on the go!
Internet banking through MyRegioBank
Mobile banking with the RegioBank Mobile Banking app
Mobile payments can be made with an Android and Apple device
Online banking and personal service; with RegioBank and Alpina you have the best of both worlds.
Our Independent Advisors of RegioBank
Want to do your business banking at a bank near you? Below you can see at which Alpina branches you can do your banking. You are always welcome for an informal meeting!
Last updated: 11-09-2023
Financially certainly.
We can be reached via Chat, Whatsapp, phone or email
Please feel free to contact us if you would like to know more.
We are available from Monday to Friday from 08:00 to 18:00.