Chalet insurance: insure your chalet directly!
Are you looking for the best way to insure your chalet? Of course, a chalet is an expensive asset, so you do want to insure it properly against damage. That's why you can take out building insurance for your chalet. With building insurance your chalet is insured in case of damage, such as fire or storm. Even if you (largely) rent out your chalet, you can simply insure it.
Why insure a chalet?
Many banks require buildings insurance in order to obtain a mortgage for your chalet. Even if this is not compulsory for your bank, it may still be wise to take out insurance. By insuring your chalet with a building insurance, you are well insured against damage. Imagine that your chalet is damaged by fire or even burns down completely. Not only will you lose a valuable asset, you will also be confronted with high financial costs. Think of the clearing up of the remains, the rebuilding of the chalet and the replacement of all your belongings. These costs quickly run into the (tens of) thousands of euros. Without insurance you have not only lost your chalet, but also a lot of money.
Chalet insurance at Eerdmans
Alpina brings its chalet insurance to Eerdmans, also part of the Alpina group. Eerdmans has been the specialist in boat insurance and insurance for a chalet for more than 50 years.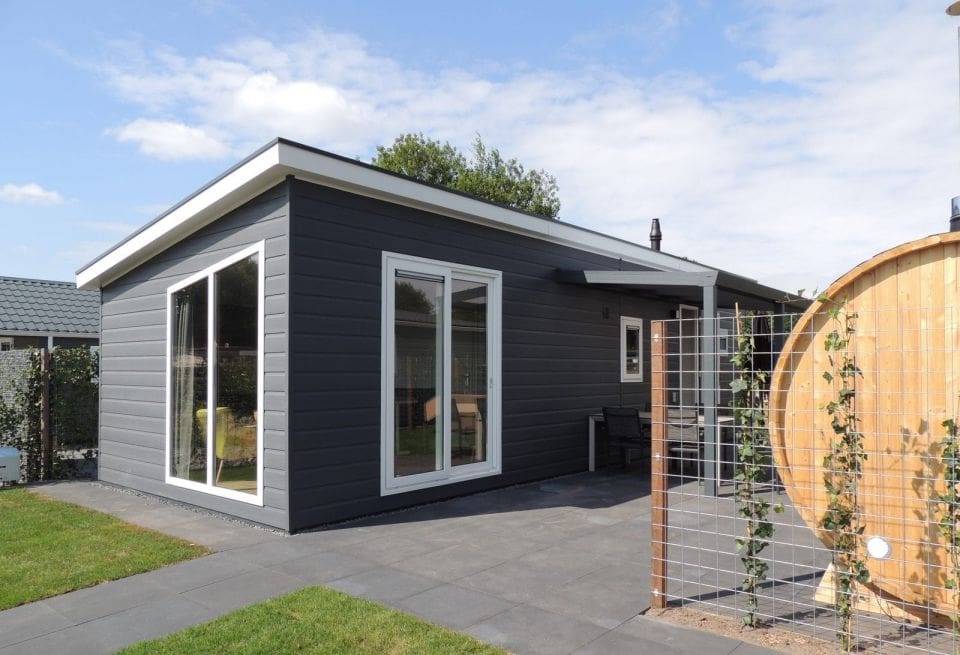 What are the costs for insuring a chalet?
The cost of insuring a chalet depends on several factors:
the type of dwelling
the construction of your house (the roof and the walls)
the reinstatement value
The selected coverage
place of residence/region of residence
A chalet is, of course, different from a normal house. In most cases, you do not live there permanently and some people also let part of the chalet. For the insurer, the risk is therefore slightly higher than for a house. A chalet is more often unoccupied and, moreover, there is usually less supervision because a chalet is not located in a residential area. For this reason, not all insurers accept chalets. Nevertheless, there are enough insurers where you can insure a chalet. However, they often impose a number of conditions on the insurance, which can be found in the policy conditions.
Cheap chalet insurance
Chalet insurance really doesn't have to be expensive. Therefore, you can feel free to look for cheap chalet insurance. At Alpina.nl we have insurance for every chalet, in every price range. What is the cheapest chalet insurance for you depends, among other things, on the coverage you choose. The basic coverage is obviously the cheapest insurance. This insures you for damage for fire damage, damage due to burglary and vandalism, and damage due to adverse weather conditions. If you want to fully insure your chalet, you can also choose the all-risk insurance. This also insures you for damage caused by sudden unforeseen events. This costs a little more per month, but has the most extensive coverage.
Insuring your chalet with home insurance
You can also insure your chalet with a home insurance policy. A home insurance consists of a home contents insurance and a building insurance. In addition, you can expand the home insurance with liability insurance, legal assistance insurance and continuous travel insurance. When you take out these insurances together, we call this a home insurance package. A building insurance is only for your house and all the immovable goods that belong to it, such as the built-in kitchen. But if a fire breaks out in your holiday home, it can also damage your household contents. You can also take out home insurance to insure both your home and your possessions. So you do not have to take out all insurance separately. With a home insurance you can be sure that your chalet is fully insured.
Compare Chalet Insurance
There are many different providers of chalet insurance on the market. By making a good comparison, you can find the best chalet insurance at the lowest price. You can do this by using our online comparison tool. With this tool, you can easily and quickly compare different insurers. First, you fill in some personal details and information about your home. In this step, you can also indicate the type of home, in this case a chalet. After this you can choose the desired coverage. Next, you will get a handy overview of all insurances that meet your wishes. You will not only get an overview of all premiums, but also of the accompanying policy conditions. Take a good look at these, because there can sometimes be major differences between insurers.
Frequently asked questions about insuring a chalet
What is insured with a chalet insurance?

With the standard coverage of a building insurance your recreation home is insured against fire, burglary, vandalism and damage caused by weather conditions, such as storm, hail and lightning. If you choose for an all-risk coverage you are also insured for sudden, unforeseen events. This includes for example damage to your holiday home caused by falling, bumping or colliding.

With building insurance, the amount of insurance depends on the type of dwelling. You can find this on your policy sheet. The insurer usually compensates the damage up to a maximum amount that is stated on your policy schedule. Even if the amount on your policy sheet is lower than the value of your holiday home.
What is not insured?

Each insurer has included in the policy conditions things that are excluded from coverage. It may differ from one insurer to another, but this is for example:

If you live permanently in your chalet
If you use your chalet for business purposes
If you have done too little to prevent the damage, for example through poor maintenance or because you leave windows and doors open during rainfall
I rent out my chalet. Can I still insure it?

Yes, you can insure your holiday home even if you let it out. However, the number of days per year that you let the house is important. Most insurers allow you to rent out your holiday home for a maximum of 6 months a year. This may differ per insurer, so always check the policy conditions. With some insurers, letting is part of the basic coverage and with others you can take out a separate coverage. If you rent out your holiday home for more than 300 days a year, you should take out business property insurance.
What is the best insurance for a chalet?

Are you wondering what the best insurance is for your chalet? This depends on the type of home you have and the cover you want to take out. By comparing insurances, you can easily find the best insurance for your chalet. You can also choose between a building insurance or a home insurance (a building and contents insurance)
Should I insure my chalet privately or as a business?

When you take out the insurance, you indicate what kind of home it is. For example, you can choose between a recreational home, mobile home or chalet. Usually you can just take out a private buildings insurance, but in some cases you need a business buildings insurance. This is for example necessary if your chalet has been purchased within a private limited company, or if you rent out your holiday home for more than 300 days a year. This number of days can differ per insurer. In most cases you can insure your chalet privately, even if you let your chalet out occasionally. Always check this in the policy conditions of the insurer.
Customers about Alpina
Made possible by klantenvertellen.nl
See all reviews
8.1
Average score
Based on
3143
reviews
Last updated: 08-02-2023
Financially certainly.
We can be reached via Chat, Whatsapp, phone or email
Please feel free to contact us if you would like to know more.
We are available from Monday to Friday from 08:00 to 18:00.